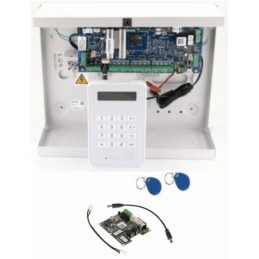 Honeywell Galaxy Flex

Honeywell Galaxy Flex is the improved version of the Galaxy G2. This improved version has more functions and is a safer alarm system. It is an alarm system for small to medium large buildings (class 2). This alarm system is also good for the security of your home. 
The Galaxy Flex is the flexible security system of Honeywell: it is a powerfull, intergrated solution for break-in detection and access control. The Galaxy Flex is an extensive, scalable, flexible and cost efficient home security solution for small to medium large buildings and homes. The system is based on more than 20 years of tested reliable Galaxy-technology. The alarm system offers the possibility for a wired or wireless system. This hybrid security solution satisfies the norm EN50131, PD6662:2010 for Grade 2.
Characteristics of the Galaxy Flex 3 alarm system:
the system works with LCD keypads, touchscreen control panel, hand transmitters, proximity carts and remote controllable with your phone (in combination with ethernet module)
access control and domotica functions
3 blocks with partial protection and silent night switch option
12 zones onboard, expandable to 20 zones (there is a wireless option for all 20 zones)
3 outputs on the main print, expandable to 15 outputs
supports up to 3 control panels with TouchCenter
23+2 users
integrated power supply 1A (battery max. 10 Ah)
maximum of 8 wireless receivers / RF-portals
maximum of 2 door controller modules (DCMs) for control up to 4 doors
maximum of 4 bus proximity cart readers (MAX)
1 RS-485 bus
high-speed bus for GSM/GPRS module and ethernet module
integrated analog telephone dialer
2 week schedules
log up to 500 notifications
USB port for programming
Technic specifications Galaxy Flex 3:
| | |
| --- | --- |
| Input voltage: | 230 V (+10%, −15%) @ 50Hz |
| AUX output voltage: | 13,8 V DC (10 V tot 14,5 V) |
| Power supply: | 1 A |
| Maximum usage: | 140 mA |
| Output power (1 & 2): | 400 mA |
| Output power (3 speaker): | 8 tot 32 Ohm |
| Maximum accu capacity: | 10 Ah |
| Maximum accu size: | 151 x 65 x 115 mm |
| Operating temperature: | -10…+55 °C |
| Maximum humidity: | 0 to 85% |
| Dimensions housing: | 337 x 333 x 93 mm |
| Weight: | 1.8 kg |
| Warrancy: | 2 years |
| Environment class conforms to EN50130-5: | II |
| Safety class conforms to EN 50131: | Grade 2 |
| Registration number / certificate: | REQ 0481 / EN-ST-000110 |