Wireless standalone Satel 433 MHz use as a standalone or connect to alarm system through inputs.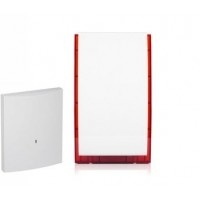 Wireless standalone Satel 433 MHz
Wireless for standalone use or to be connected to alarm system from the brand Satel. The wireless standalone in this category can also be used on the Satel Perfecta or the Mira if they have a wireless receiver.
This wireless receiver enables extension of the alarm system possible through adding appliances that work at 433 MHz frequency. This applies to the wireless products in this category. The wireless receiver is able to go with every alarm system or automation system. For example as a RF controller to open a gate or garage with the usage of a hand transmitter. The wireless receiver communicates with a alarm system or automation system through outputs and inputs (zones). Eight outputs for zone control and two inputs for alarm system strobe or siren control and output for battery error and tamper protections.
This wireless receiver supports up to 16 detectors and 32 hand transmitters in one way coded communication and up to 4 wireless sirens/strobes in two way coded communication. The controller can be programmed through the usage of buttons on the device itself or with the use of a computer with a free software program.